History
In January 1978, an announcement was made that the Government of Cuba was making a grant to Jamaica in the form of three institutions. One of these institutions was the G.C. Foster College. It was to be constructed in Spanish Town.

In March of that year, a group of persons from Jamaica went to Cuba on an observation tour of institutions similar to the one which was to be set up in Jamaica. On their return, a report was made which indicated that some modifications would be necessary as the Cuban institutions were serving a society with a different socio-cultural structure.G. C. Foster College of Physical Education and Sport is named in the honour of the legendary Gerald Claude Eugene Foster, a dedicated and versatile sportsman who was born in Spanish Town in 1885.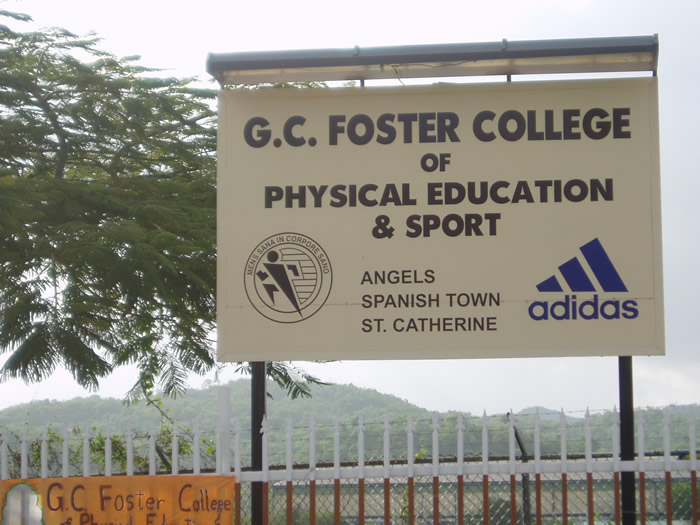 Maxim always quoted to his athletes was "Mens Sana in Corpore Sana", (A healthy mind in a healthy body), which has become the College's motto.

Foster started his illustrious sporting career has a schoolboy attending Wholmer's Boys School in Kingston, excelling particularly in track and field, and in cricket. At this school he was strongly influenced by the late William Cowper of Classical Fame, learning the discipline of body and mind as taught by the ancient Greeks who first held Olympic games.

At the young age of nineteen (19), he set a Jamaican sprint record in the 100 yards category, resulting in him being held as Jamaica's sprint champion. After the 1904 Olympics he competed in Lancaster and Yorkshire in England winning six races in the most famous of which he beat the Olympic third place winner.

G. C. Foster College was established in 1980 in Spanish Town, St. Catherine. Its main Purpose was to train teachers and coaches for the important task of physical education in Jamaica, with special emphasis on serving the Ministry of Sports in those areas.

The first principal for G.C. Foster College was Jimmy Carnegie in 1980. Dr. Gloria V. Burke succeeded him and served from 1981 - 1986. The most recent principals to serve the institution was Noel Monteith who served from 1990 - 2001 and Mrs. Yvonne Kong who served from 2004 - present.